Maintaining a horse trailer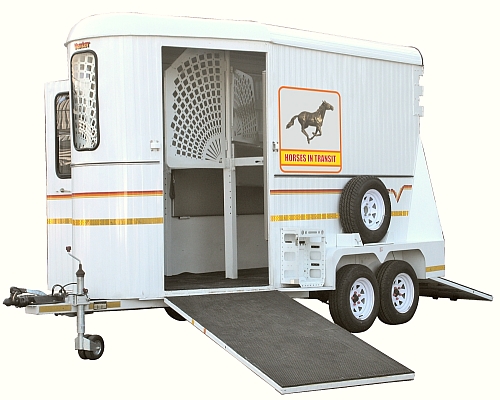 Caring for your Horse Trailer
Owners of trailers should carry out 'pre-trip' checks on their trailers before each journey. These checks include:
Check correct tyre pressure, including spare wheel

Check wheel-nuts are securely fastened

Checking for adequate tread depth of the tyres (min 3mm)

Ensure the handbrake is functional and properly set

See that the trailer coupler and safety chain is securely tightened to the frame, with no cracks or structural deformation

Check the licence disc is intact and securely attached to the vehicle

Check electrical plug makes contact and is properly secured.

Check lights, as well as brake lights and indicators

Ensure ramp and doors are functioning and the hinges well greased

Check the door locks catch and hold the doors closed

Check all adjustable and moving parts inside the horse areas are secured

Ensure various reflective mandatory warning stickers and tape are intact and adhered to the trailer

Check for hornet or wasp nests

Commit to a regular annual inspection, service and maintenance plan

Check the towing vehicle is in a suitable condition to undertake the towing task, including checking that the tow-hitch is securely attached to the vehicle.
REGULAR SELF-CARE (For your Horsebox Trailer)
Clean underneath the floor mat.

Grease the back and side ramp hinges.

Grease the coupler.

Charge the light fitting.
Clean underneath the floor mat
All Venter horse boxes have been fitted with a mat securing strip to prevent the mat from slipping or moving.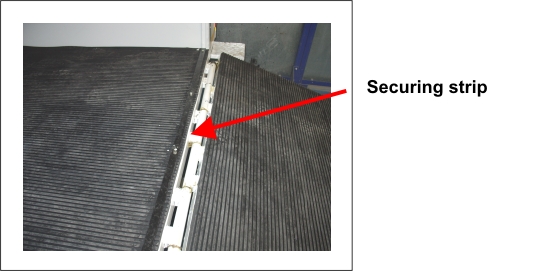 Clean underneath the mat
Option 1.Lift both ends of the mat simultaneously and roll the mat towards the back of the trailer.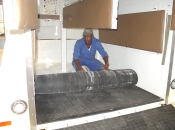 Once the mat is at the back of the trailer you can gain access and clean the floor. Once clean and dry the mat can be rolled back.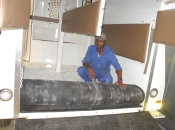 Clean underneath the mat
Option 2. Lift both ends of the mat simultaneously and fold both pieces simultaneously towards the back of the trailer.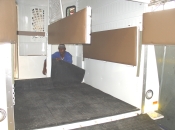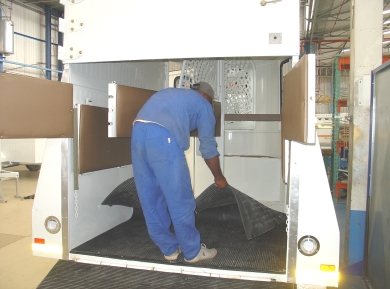 Holding both sides of the mat, pull the mat completely out of the trailer, overlapping the ramp. The trailer can be cleaned, dried out and the mat can be put back into position.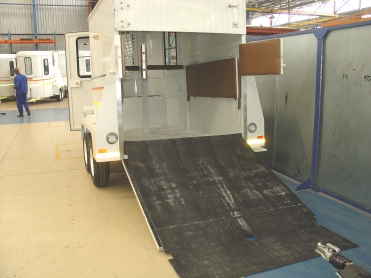 Grease the back and side ramp hinges
There are 7 grease points on the back ramp of the 2 berth horse box, 8 on the Royal Horse box which have to be greased monthly with the grease gun provided. There are an extra 5 grease points on the Royal horse box side ramp.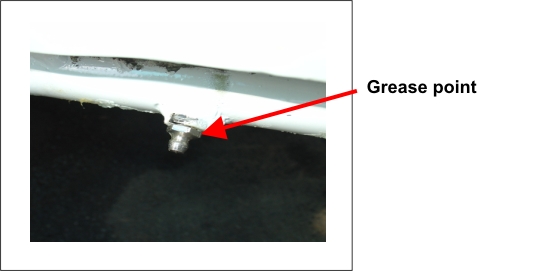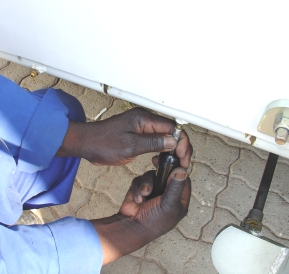 Grease the coupler
There are 2 grease points on the coupler of the horse box which have to be greased monthly.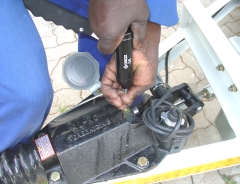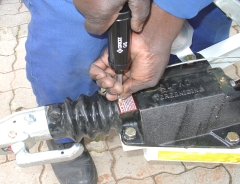 Charge the light fitting
The light fitting must be charged before it can be used. To unclip the light fitting slide it up and pull it forward.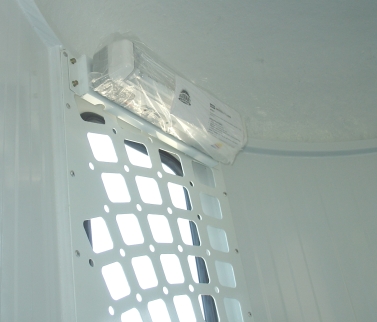 REGULAR SERVICE INTERVALS
Service Approach
An annual inspection of the whole vehicle including: brakes, brake shoes, bearings, wheel balancing, lights, signals, suspension, wheels and tyres, and coupler hitch devices, is strongly advised.
It should include the following:
Check floor, supports, braces and floor mats.

Check interior for rust, sharp edges, exposed wiring.

Check exterior bodywork for paint chips, dents and scratches

Check partitions, doors, latches, butt bars, and tailgate for soundness, security, and proper Operation.

Check axles, axle bearings, spindles, tailgate grease-rod and suspension.

Checking and aligning axles where necessary

Check brake system and its operation, including emergency breakaway braking system.

Check coupler for proper operation, correct size ball, safety chains, locking pins

Check electrical plug, receptacle, and wiring. Use of a protective spray to protect electrical contacts against corrosion.

Check balance of trailer and hitch when hitched to tow vehicle; have height of hitch and torsion bars adjusted so that hitch and trailer are level. Riding uphill puts more strain on the tow vehicle; riding downhill causes poor balance of trailer and can be dangerous.

Check tyres for wear, balance, and proper inflation (including spare).
Warranty

A manufacturers warranty is issued and covers defects and faulty workmanship for a period of one year (12 months) from the date of purchase. Wear and tear due to normal usage falls outside this warranty.

Safety and maintenance
All work on the trailer, in particular, work on safety related systems should be carried out by authorised dealers or at the Venter factory, in Lea Glen, Roodepoort, Gauteng. This workshop has the necessary specialist knowledge and tools to carry out this work.

Risk of accident and injury
Work carried out incorrectly, or alterations made to the vehicle, by unauthorized personnel, could pose a safety risk.

Driving and vehicle integrity
If the vehicle is driven fast over rough terrain, or bottoms out, this can cause heavy impacts to the vehicle underbody, tyres, wheels or braking system. This in turn could cause damage, which could then lead to an accident. Prevention by driving sensibly and slowly to prevent such impacts is advised. Regular inspections are recommended.

Vehicle Service
Venter Manufacturing maintains a register of all trailers sold. Customers who register for regular servicing or inspections would have a record of service history ensuring the vehicle remains roadworthy and safe, using genuine Venter parts. Customers can request a quote for a standard service of their trailer at: info@ventertrailers.co.za

Owner care
A horse trailer is a large road vehicle and should be treated like any commercial vehicle. If possible park the trailer under cover, on a hard dry surface. Wash and wax regularly to protect it against the weather. If treated with care it will give many years of good service.